When you create a new WordPress site on the Headwall servers, it will automatically include the Admin Dashboard Widget. You can use this dashboard widget to control backup/restore, the update schedule, protection services and some additional features.
Backup & Restore
The Dashboard Widget's main purpose is for controlling backups and updates.
If your website is a shop with mainly European customers, then you'll probably want to do things like updates and backups at something like 2am Paris time. But, if your shop mainly serves customers in the USA, but you run your site on London time, then maybe 5 am GMT is a better time for updates and backups.
Protections
You should leave all the Protections enabled unless you're working on your website. Maybe creating an extension to your theme, or working on a custom plugin. If you disable the protections then you will receive automatic updates reminding you to enable them again.
The Spam protection hooks into Contact Form 7 and WPForms to provide some protection against contact form spam.
The REST API option disables user enumeration for users who are not logged-in to your website.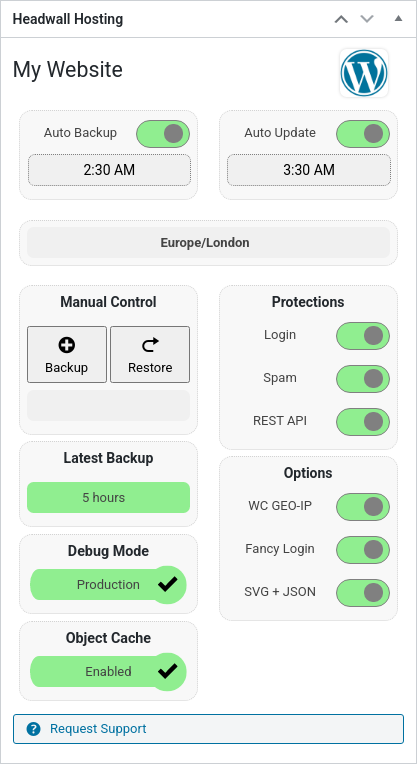 WooCommerce GEO-IP
The WC GEO-IP option can give you more accurate geographic IP location data for helping with your customer checkout stage. It's entirely optional, and is an alternative to the MaxMind integration that WooCommerce offers as standard.
Fancy login
This is purely cosmetic, and helps to make your site's wp-login.php page a bit… fancier. For more information, there's some useful info in this wp-login.php WordPress tutorial.